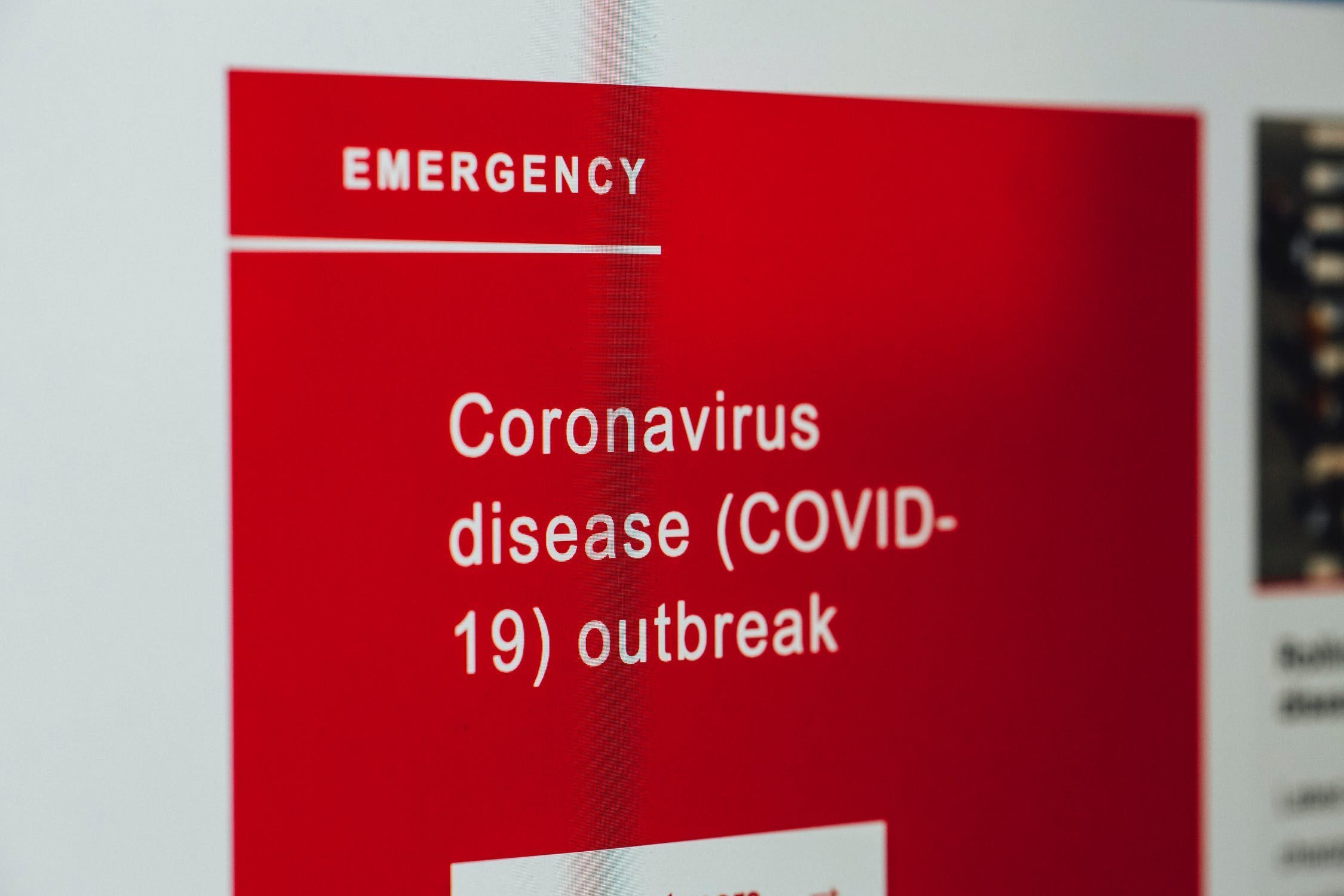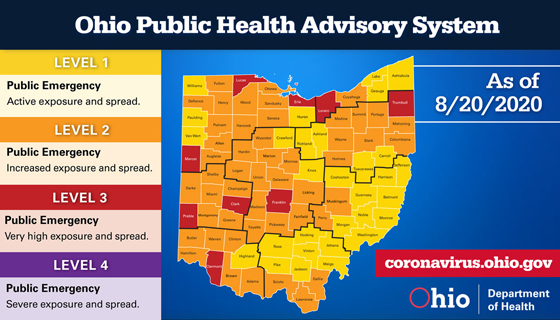 Governor Mike DeWine announced on Thursday, July 23, a statewide mask mandate is in effect for citizens living in all 88 Ohio counties.
Continued Business Closures
The following businesses and operations remain closed as of June 24, 2020, as part of Ohio's plan to prevent the spread of COVID-19. All open businesses, facilities, and other operations must follow required safety protocols.
K-12 schools.

(Excludes all activities related to non-contact and limited contact sports; skills training, practice, and scrimmages for all sports; and pools and aquatic centers.)

Older adult day care services and senior centers.
Adult day support or vocational habilitation services in congregate settings.
Rooming and boarding houses, and workers' camps.
Certain entertainment/recreation sites.
Includes:

Auditoriums, stadiums, arenas.
Performance theatres and indoor concert and music halls.
Parades, fairs, festivals, and carnivals. (County fairs are permitted.)
Certain spectator sports, sports tournaments, and organized recreational sports leagues. (Skills training, practice, and scrimmages for all sports is permitted. Non-contact and limited-contact sports are permitted. Batting cages, bowling alleys, tennis facilities, and golf courses are permitted to open.)
Some public and private pools. (Public pools and club pools regulated by local health departments are permitted to open. Use of swimming pools for single households also is permitted.)
Sector Specific Operating Requirements
Primary
Healthcare & Hospitals
Other Resources

• Responsible Protocols (Safe Practices for Getting Back to Work)
• Guiding Principles
• Actions if Infection at Workplace
• Contact Tracing
• OSHA – Return to Work Guidelines
BEST PRACTICES
CLEAN ALL "HIGH-TOUCH" SURFACES EVERY DAY
High touch surfaces include counters, tabletops, doorknobs, bathroom fixtures, toilets, phones, keyboards, tablets, and bedside tables. Also, clean any surfaces that may have blood, stool, or body fluids on them. Use a household cleaning spray or wipe according to the label instructions. Labels contain instructions for safe and effective use of the cleaning product including precautions you should take when applying the product, such as wearing gloves and making sure you have good ventilation during use of the product.
All businesses must follow general safe business practices as they reopen. Those include requiring face coverings for all employees, and recommending them for clients and customers at all times; conducting daily health assessments or self-evaluations of employees; maintaining good hygiene and social distancing; cleaning and sanitizing workplaces; and limiting capacity to meet social distancing guidelines.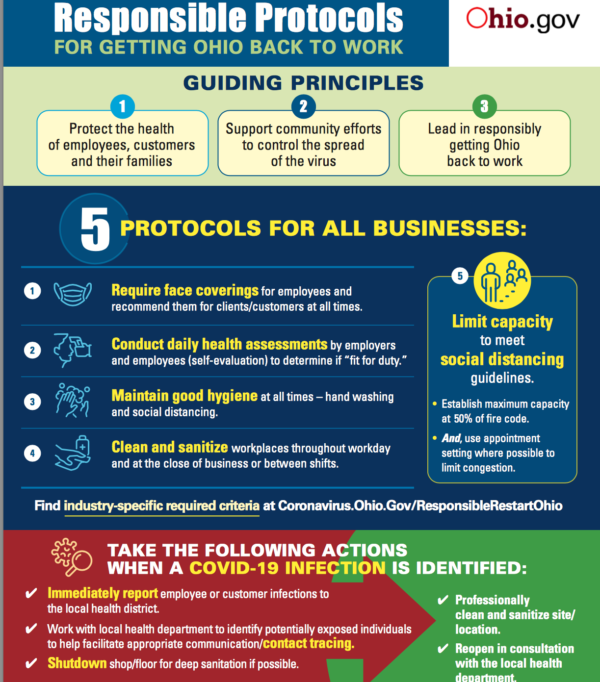 BUSINESS RESOURCES

Latest News

ADDITIONAL SUPPORT/RESOURCES
Small Business Support
Please regularly visit 
Coronavirus.Ohio.Gov/BusinessHelp
 for the most complete and up-to-date information about resources available for Ohio businesses, individuals, and families. Listed below are just a few.
Paycheck Protection Program
Businesses with fewer than 500 employees are eligible for assistance to keep employees on their payroll through the end of June. Under the Paycheck Protection Program, a small business can receive a loan of up to $10 million, with a two-year term and a 1% interest rate. The loans will not require collateral or personal guarantees. Most importantly, up to 100% of the loan can be forgiven if the funds are used to maintain employee payroll. Visit 
SBA.gov
 for more information.
Foreclosure Prevention
Governor DeWine signed an 
executive order
 that seeks to provide some assistance for small businesses with mortgage and rent payments. The order asks lenders and landlords across Ohio to work with their small businesses and suspend payments for at least 90 days in an effort to avoid foreclosures.
JOB OPENINGS
Lt. Governor Husted announced that the Governor's Office of Workforce Transformation has developed a website specifically geared toward matching essential businesses with Ohioans who are able and willing to work as an essential employee during the COVID-19 crisis.
"If you are an employer who performs a critical service, please go to Coronavirus.Ohio.gov/JobSearch to post your open positions so we can help you fill them," said Lt. Governor Jon Husted. "If you are a person who can work, please know that there are many who need you to help keep essential services running and we encourage you to do so, even if its only part time."
The site features a highly-streamlined interface with only two main links – one for essential businesses, and one for job seekers. Applicants can search through jobs in their area, their region, and the entire state.
PPE MANUFACTURING
The state has established the Ohio Manufacturing Alliance, a collaborative public-private partnership to coordinate efforts to provide healthcare workers and first responders with personal protective equipment (PPE).
The alliance is working to identify and match the critical needs of Ohio's healthcare system with companies willing and able to repurpose production to meet those needs.
Manufacturers that can help should visit 
RepurposingProject.com
 for more information. Those involved with this project will be compensated.
The alliance includes: Ohio Manufacturers' Association, Ohio Hospital Association, Ohio Manufacturing Extension Partnership, Manufacturing Advocacy and Growth Network, nursing home organizations, JobsOhio, Ohio Department of Administrative Services, Ohio Development Services Agency, and the Ohio Department of Health. Anyone else with items to donate should email together@governor.ohio.gov.
Impacted Employee Support
Your employees may be affected by the temporary restrictions put in place. The Governor's office also announced several initiatives to help:
They are broadening current state policy to clarify that individuals that are quarantined by a health professional or by their employer are considered to be unemployed and will not be subject to requirements to actively seek work during the period of emergency.
This also applies to companies that determine it is necessary to temporarily shut down operations due to the current emergency.
Ohio currently has a 1-week waiting period before an individual can receive unemployment. In order to expedite the payments to impacted Ohioans, they are waiving the waiting week so that workers eligible for unemployment benefits will receive them for the first week of unemployment.
These points were taken from the Governor's Twitter page, but as soon additional details become available, the chamber office will share them with you.
Bar/Restaurant Owner Support
The Lt. Governor announced a temporary buy-back of high proof liquor products purchased within the last 30 days. The goal of this is to ease cash flow for bar/restaurant owners. Here is a release by the Department of Commerce that shares more. It should be returned to the Agency where it was purchased. If you have questions you may call 1-877-812-0013 or email ohioliquorinfo@com.ohio.gov
Workplace Safety
The Occupational Safety and Health Administration (OSHA) has resources to help employers and workers prepare for and respond to coronavirus in the workplace.
Wages, Hours and Leave
The Wage and Hour Division is providing information on common issues employers and workers face when responding to COVID-19, including the effects on wages and hours worked under the Fair Labor Standards Act and job-protected leave under the Family and Medical Leave Act.
Unemployment Insurance Flexibilities
NOTE: Check with your state's unemployment insurance program regarding the rules in your state.
The Employment and Training Administration announced new guidance outlining state flexibilities in administering their unemployment insurance programs to assist Americans affected by the COVID-19 outbreak.
Under the guidance, federal law permits significant flexibility for states to amend their laws to provide unemployment insurance benefits in multiple scenarios related to COVID-19. For example, federal law allows states to pay benefits where:
An employer temporarily ceases operations due to COVID-19, preventing employees from coming to work;
An individual is quarantined with the expectation of returning to work after the quarantine is over; and
An individual leaves employment due to a risk of exposure or infection or to care for a family member.
In addition, federal law does not require an employee to quit in order to receive benefits due to the impact of COVID-19.
Federal Response
Additionally, the House acted late last week to pass legislation to support businesses and families affected by the disruption. Here is a great overview by the US Chamber which breaks down what is included.
______________________________________________________________________________________________
PERSONAL SUPPORT/RESOURCES
What to do if you are sick
If you are sick with COVID-19 or suspect you are infected with the virus that causes COVID-19, follow these CDC steps to help prevent the disease from spreading to people in your home and community. Know the symptoms, pdf
How to protect yourself
Older adults and people who have severe underlying chronic medical conditions like heart or lung disease or diabetes seem to be at higher risk for developing more serious complications from COVID-19 illness. Please consult with your health care provider about additional steps you may be able to take to protect yourself.  CDC Steps
Coping with COVID-19 Anxiety
Resources to help you deal with the stress and mental toll of the COVID-19 outbreak.
__________________________________________________________________________
There are 11.7 million people residing in the State of Ohio
Ohio is the 7th most populated State in the US
Ohio is 6th in the nation of older adults
__________________________________________________________________________
PRINTABLE SIGNAGE
Click the images below for the high resolution, printable files.